Game 5: Chess Match
Coach engages in unrehearsed strategies to try and keep game within reach
By Andrew Wolan / WRCS
Game date: July 22, 2009
Score Box
| | | | | | | | | | | | |
| --- | --- | --- | --- | --- | --- | --- | --- | --- | --- | --- | --- |
| Verdasys | 0 | 0 | 0 | 1 | 7 | 0 | 1 | | 9 | 19 | 1 |
| Thermo Fisher Scientific | 0 | 4 | 0 | 9 | 4 | 2 | X | | 18 | X | 2 |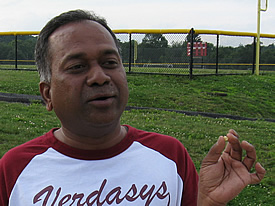 Game 5 was so exciting that Ajeet broke a tooth just watching it. (Wolan)
Introduction
Last time on "The Battle for Wyman Street", newcomer Verdasys Softball squared off against the experienced Thermo Fisher (TF) team in their first ever encounter for Wyman Street supremacy. In that contest, Verdasys was clearly outmatched as they fell to TF 23-3.
While such a large margin of victory would normally be news worthy itself, it wasn't. Grabbing the headlines instead was an overzealous player on the TF bench who nearly started a ruckus over a close play at the plate. And for a team with victory surely locked away, many also asked why was the TF bench trying to shut-out a team in a non-competitive amateur co-ed softball league?
This year in second annual "Battle for Wyman Street," Thermo Fisher will undoubtedly be looking for another near shut-out in their pursuit to take a quick 2-0 lead in the series. Will they success or will Verdasys demonstrate that they are no pushovers and surprise TF with an upset victory? Will the today's game once again be laced with controversy? And most importantly, will Mike O'Connor continue his "no falls on the field" streak?
Roster Round-up
Making their softball career debut was "Kung Fu" Lijun Wang. A native from China, Lijun participated on the Chinese 2008 Beijing Olympics table tennis team. Though Lijun lacks any baseball experience, Lijun has assured coach Wolan that he can map his paddle techniques onto the bat. Wang has been nick-named "Kung Fu Lijun" for his disposition for making "Kung Fu" sounds (and the occasional summersault) while fielding.
Making their seasonal start for the team was Steven Bergstein. Bergstein, who was unable to make any game this season, has told the writing staff that the postponements earlier this season are working in his favor. "The more these games get pushed out, the more likely I'll be able to play."
Not making their appearance today was Aleksey. According to insider reports, Aleksey will be out for an unknown number of weeks recovering from surgery. What the surgery was for is uncertain, but rumor has it that it was a bionic implant.
Unique Fielding Conditions
Though the skies looked threatening, it was dumbfounded as no rain was detected over New England for the course of the day. However, it did rain the day before. This, combined with rainy summer season transformed the infield into one that was soft but firm. As a result, the normally rock-hard infield had the perfect fielding condition for sliding.
Game Summary
"I'm ripping the ball good today coach. Put me in." That's what Elliot Eno said when asked to take the lead-off spot in the roster for Mike O'Connor. O'Connor, the team's 2008 hit leader and de facto lead-off hitter, was scheduled to be a half hour late for the contest, creating a vacancy at the top of the line-up.
Elliot did not disappoint as he kicked off the game with a base hit single. His hit was so shocking that it actually caused Ajeet to break a tooth. "I think the shock wave from the hit resonated with a molar, fracturing it in the process." Ajeet would be kept away from the fielding duties for duration of the game as precaution.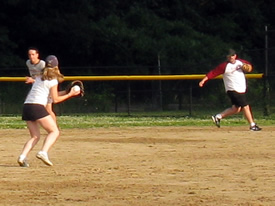 Nicole fields a grounder for a 1-3 force out at first in the 2nd. (O'Connor)
Other than that, that would be the only hit Verdays would get through the first 3 inning as TF retired the next 9 batters. A solid, well-oiled Thermo Fish infield unit gobbled-up all grounders and converted them into force-outs. While disappointing, Colby kept the team's spirits up with her exuberant "Colby being Colby" behavior, such as cheering over random events, regardless of whether they were favorable to the team or not.
As for defense, TF threatened in the first but were held scoreless. Nicole made a running shoe-string catch in the infield to end the inning. TF took advantage of Verdasys's fielding configuration in the second by place-hitting the ball, racking-up four runs in the process.
But Verdasys would not roll over so easily. With a runner on first, a TF batter hits the ball to Avi in right field. The runner attempts to collect an extra base and proceed to third. Avi, Jerry and Ron combine for a 9-3-5 relay to third as Ron makes a stand-up tag for the out. "It's about time I made an out" said Jerry Buote.
After observing Thermo Fisher's hitting strategy, coach Wolan made a minor tweak to the fielding configuration in the third inning It would pay off as TF went down in 1-2-3 order, the first earned by the Verdasys defense all season. 4-0 TF after 3.
Courtesy Belt Controversy
What would a Thermo Fisher vs. Verdasys game be without some controversy? During the second inning, coach Wolan noticed that the Thermo Fisher's outfielders were not observing the "Courtesy Belt" belt rule. After the inning, Wolan informed the other team of the rule and meet some resistance. The Thermo Fisher benched argued that "if the rule is not written, then it does not exist."
"I've spoken to the commissioner about this rule" said Wolan "and she told me that this rule applies to this league. In fact, she told me that it's not written because she didn't think that for an amateur non-competitive league that it needed to be written."
The team would reluctantly comply
"I don't understand their reluctance to obeying this rule" said coach Wolan. "Other teams agreed to obey this rule shortly after being mentioning of its existence.
"The whole point of this rule is to keep it fun for batters that can't hit well. I've played in four different co-ed softball leagues in the state. Every league either had this rule or instituted it shortly thereafter. Even the most competitive division of the Boston West Co-Ed Softball league (a league with 100+ teams) had this rule.
"You know, for a team with such talent, you would think they would know better. I just think that some players on that team were unhappy with this rule because they wanted to go for another near shut-out against us. Someone really needs to tell those players that this is a non-competitive amateur co-ed softball league, with an emphasis on FUN."
"Hey, didn't anyone read the transcript from my press conference earlier this season? Didn't I say that I wanted other people to coach third this season because I have too much going on during the games?"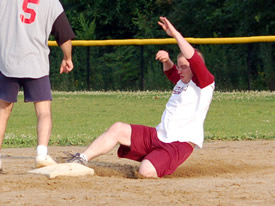 O'Connor sliding into second for a lead-off double in the forth. (Moffitt)
Quiet you.
Continuing Action
Determined not to end the game scoreless, coach Wolan was looking for any opportunity to put some points on the board by the end of the game. He did not have to wait long.
After being reminded from Jerry Buote that "Choosy hitters do not choose Jif," Mike O'Connor led the fourth inning off with a hit to the outfield. He stretched the hit into a double with a slide a second, his second career double with Verdasys Softball. Excited by the scoring opportunity, coach Wolan takes on base coaching duties on third that was vacant at the time.
Next up was Ajeet who hits an infield base hit, advancing Mike to third. With runners on the corners, "Kung Fu Lijun" hits a grounder for a fielder's choice. Though Ajeet is erased at second, O'Connor sneaks in from third to score. This play not only breaks the shut-out but gives Lijun his first RBI of his career.
Eno follows with a sacrifice hit that advances Lijun to second. Next up is Colby who hits a grounder to third. Overwhelmed by the excitement, coach Wolan mistakenly tells Lijun to proceed to third, who is easily tagged out near third. "You know Andy, Lijun did not have to run because there was no force out at second" commented Grimard.
Because of the base-coaching blunder, and the likelihood that Colby would have been safe at first, Colby was award a hit despite the "bad base coaching" incident by Wolan.
Bottom of four and with nobody out, Thermo Fisher threatens by loading the bases. Bergstein suggests a fielding change to make a play at the plate, and coach agrees. Thus, Bergstein moves from short to catcher, A-WOL from FOF to short, and Stella from C to FOF. The move pays off as the next batter hits a short grounder to Nicole for the 1-2 force out at the plate.
A controversial play would occur a few plays later. A TF base runner crossed home without touching the plate. Bergstein, who was covering home, made the observation and tagged the runner after announcing what had happened. The other team objected, claiming it shouldn't matter in such a league. Coach Wolan dismissed the call and allowed the run, but he had some reservations about the call after the game.
"Last year when Ajeet forgot to touch home plate, the Thermo Fisher bench did not say 'don't worry about'. Instead, they tried to make a play to get Ajeet out. Had I remembered that, I might not been as willing to let it go.
"As I told Bergstein, if he or some other fielder was blocking the plate or is in a position that could harm the base runner, I would let the matter go because this is not a competitive league. This happened last year against NKF. But if the there was no play at the plate, and the fielder was not obstructing the plate, and the base runner still missed it, then that's another matter. According to Bergstein, the latter occurred, so the runner should have been out. I screwed-up that call."
The call would be costly as the inning would drag on. The next few batters would take advantage of the player shift by hitting the ball just outside the reach of Nicole playing behind second base. "I'm gonna get you out, just watch!" said Nicole. Verdasys would eventually adapt by shifting players around, but not after allowing TF to break the game open with 9 runs to take a 13-1 lead.
Top of five, Grimard hits a lead-off ITP-HR into right field, his first of the season. His hit fired-up the Veradsys bench and got A-WOL, who was pitching to Verdasys that inning, to declared that they only needed "7 more to go." As Thermo Fisher would soon find out, Verdasys was serious! Below is a play-by-play recap of the inning.
Grimard hits an ITP-HR to kick-off inning.
Jerry hits a single. Runner on first.
Avi hits a double. Runners on second and third.
Bergstein's hits an RBI single, scoring Jerry. Avi on third, Bergstein on first.
Ron hits a 2-RBI triple scoring Avi and Bergstein. Ron on third.
A-WOL hits an RBI single scoring Ron. A-WOL on first. (A-WOL makes a fake fall on field to Elliott's disgust.)
Nicole hits a grounder but A-WOL out runs throw at second. Runners on first and second.
Stella hits a short grounder to third. TF tries to tag A-WOL on the play, but his foot was planted on the base before the ball arrived. Stella with an infield hit. Bases loaded.
Mike O'Connor hits an infield pop-up. Batter is out via "infield fly" rule. Bases were still loaded and one out.
Ajeet hits a 2 RBI single into the shallow center field. A-WOL and Nicole score. Stella is tagged out at second after stepping past second base. Runner at first with 2 out.
Lijun hits a flair/line-drive to the third baseman for out 3. The hit was met with praise from the Verdasys bench, especially since Lijun never swung a bat until today.
In all, Verdasys collected 7 runs off of 9 hits to make it a 13-8 ball game.
More controversy? Come on
Yes, more controversy. (Believe me; we are as sick about talking about these things as you must be reading them!)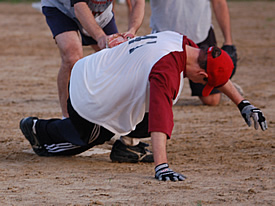 A-WOL keeps his right foot planted on the bag after outrunning a force out at third. (Moffitt)
The first involved A-WOL and the third baseman. After he outran the throw to third, the third baseman made and held the tag on A-WOL. Some said that the fielder was trying to push A-WOL's foot off the bag. However, A-WOL begs to differ. "It didn't feel like he was trying to push me off the bag" said A-WOL. "My foot was firmly planted on third, so the only way my foot was going to move was if he pushed hard. "
As for what the fielder was doing, A-WOL believes the fielder held the tag on him in hopes that A-WOL's foot would slip-off, scoring a "cheap" out. "I bet he was thinking 'dam, he beat me to the bag.' Therefore, he was looking for any way which to salvage the play." Coach Wolan said that had A-WOLs foot slipped off, he would argue the play noting that "a fielder can only apply a tag for so long before it gets silly."
The second involved Mike O'Connor and his pop-up. After a TF infielder caught the ball, he then threw the ball to first base, claiming that Stella was doubled-up for being off the bag. (No tag was applied on Stella, however.) Elliot says that Stella tagged-up (http://en.wikipedia.org/wiki/Tag_up) and then tried to advance to second. Because a "tag-up" was in effect, a tag was required on Stella, not a toss to first. Since she returned to first without being tagged, she was safe.
Officially, the "infield-fly" rule takes. Even then, what Stella did was within the guidelines and still was safe.
The third and undoubtedly, the most disturbing play of the game was when A-WOL faked a fall after crossing first base. "I saw what you did" said Eno. "You know the (record keeper) is keeping track of the number of times people fall on the field. You just fell down intentionally just to pads your stats. I'm thinking about falling down after every catch I make in the outfield just to outdo you."
Bottom of Five
With the 7-run rally, TF's hopes of a near shut-out were now dashed. The rally, combined with coach's insistence on the "courtesy belt" rule and the "infield fly" incident of the previous inning clearly frustrated some on the TF bench. As a response, some were heard vowing to make "ground-ball base hits" in hopes of frustrating the Verdasys infield. TF would score 4 runs to make it a 17-8 ball game, but only before the Verdasys infield adapted to their strategy.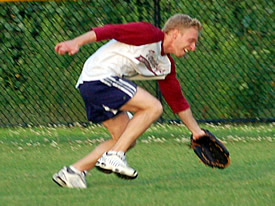 Eno is unable to get to a flair hit into center field in time. (Moffitt)
Also in the inning, Avi attempted to make a barehanded running catch of a fly ball in right field, but was unable to hang on. "You have a glove" said Jerry. "You're supposed to use it."
In the sixth, Verdasys threaten by loading the bases, but Bergstein would fly out to end the inning and the threat. TF collected two more in the inning to make it 19-8. A shift in fielding assignments helped keep the scoring in check. The runs came after Elliott was unable to catch a flair hit into center field, allowing the ball to pass him for an ITP-HR. "I got a bad jump on the ball" said Eno. "I was either going to catch it and make a great play or they were going to get an extra base hit."
The inning was also witness to a scary incident on the mound as the TF pitcher was struck by a line-drive. Fortunately, he was not injured in the incident and was able to continue playing.
Down by 11, Verdasys looked to rally once again in the seventh. Here's the play-by-play break down:
Ron hits lead-off single. Ron on first.
A-WOL hits a single that dribbled by infielders. Runners on 1st and 2nd
Nicole hits into a fielder's choice, A-WOL out at second, but Ron scores. Runner on first.
Stella makes an infield hit. Nicole overshoots second base on the play. Jerry tries to wave Nicole to third to avoid a certain tag-out at second, but fails to do so and is tagged out near second. Two out. Stella on first.
Mike O'Connor pops-out to end the game.
And so, despite an overly competitive opponent, Verdasys holds their own to lose respectably 19-9.
Post Game Reaction
Coach Wolan kicked-off the "Post Game Show" with his usually assessment of the game.
"We came into this game knowing that some players in the opposing team was going to take this game too seriously. We also knew that we would have little chance of winning the game. But with that said, I think we played very well. The fact that we were able to clearly frustrate and challenge our opponent and make them earn the win was a victory in its self. What impressed me the most was out ability to effectively shift players around during an inning of play to adapt to how Thermo Fisher was playing. I hope to make use of this proven strategy in future games. Even thought we lost, overall I think this game just made our team stronger."
Q. What were some fielding strategies used in this game?
First of all, you need to understand that Thermo Fisher has a really good place-hitting team. What I mean is that some of their batters can actually hit the ball to where they want to on the field, with pretty good accuracy. My overall strategy was to figure out where they were trying to hit the ball and see if we could either get a fielder over there or provoke them to hitting it elsewhere where we had better coverage.
For example, what we did was have FOF A-WOL appear in random locations in the outfield. For example, in one inning, many of their batters were hitting the ball into right field. They did it because the field only had Avi. So what did we do? We had A-WOL stand in shallow right field. This in turn encouraged TF to hit the ball into left and left center field, our strongest part of the outfield with Ryan and Eno covering. This trick alone netted two outs in the 5th inning.
Another example was how A-WOL would run to different locations in the outfield with each pitch. The idea was that he would suddenly appear in an area that TF thought was vacant, throwing TF off or allowing A-WOL to make a play. It was so random that even A-WOL did not know where he would be next!
I know that on one occasion, A-WOL was standing behind second when he ran to right field during the pitch. The ball was hit through a gap by Colby covering second. Since A-WOL was running into the general area, he was able to field the ball and prevent the batter and base runners from collecting extra bases.
Another thing we did was move Bergstein to catcher and A-WOL to short. The move netted a play at the plate, which I believe is our first for the season. However, we stuck to that fielding configuration bit too long, allowing our opponent to take advantage.
I guess you could say that our flaw was that we did not adapt fast enough.
Q. What is your comparison of how the TF bench acted compared to last year?
The guy that created the most problems last year was not at this game. Enough said. Look, most of the players on that team are just looking for some fun. Unfortunately, some guys take it too seriously, forgetting that this is an amateur, non-competitive league.
Q. Do you think Thermo Fisher will challenge the results of this game because of the Courtesy Belt rule?
Why? They won the game. They may ask for a clarification from the commissioner, but I know what she is going to tell them, and it will be what I already told them.
Q. We just received word from the commissioner that she is repealing the Courtesy Belt Rule. She claims that it would be too difficult for coaches to follow. What do you make of that?
You must be joking.
Q. No, we are not. This is breaking news.
I don't know what to say other than that I'm shocked. We spoke about the matter, the commission and I, before the season started and we agreed that any team that gangs-up on a weak hitter is showing poor sportsmanship. But now she is saying this is ok? Why, because it too hard for a coach to tell his or her outfielder fielders "Hey, backup! Give the batter some respect."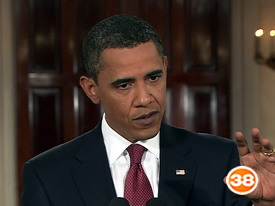 President Obama said that A-WOL "acted stupidly faking a fall to pad his stats." (WSBK)

I'm not buying that argument. Have you ever had to deal with a player who wanted to quit the team because he or she couldn't make a hit because every time they came to the plate, the outfielders would gang-up on them? You know how hard it is to try to convince such a person to stick around? That's hard! Telling a guy to get out of the infield when a player who can't hit is batting is not hard. Any team manager that says it is probably shouldn't be running a team in the first place.

At 8pm, attention turned to Washington as President Obama addressed the nation regarding his plans to tackle the healthcare crisis in America. At the end of the meeting, a reporter got off subject and asked the president about Game 5.

"I don't have all the facts in front of me" said President Obama "but I think A-WOL acted stupidly faking a fall to pad his stats." Obama later added that the incident "takes away from the on-field acrobatics exhibited by Mike O'Connor during the 2008 season."

Big Bats

Grimard: 2 for 3 (ITP HR) with an RBI and one run scored.
Stella: 2 for 3.
Avi: 2 for 3 (2B) with one run scored.
Ajeet: 2 for 2 with 2 RBIs.
Eno: 2 for 2 with a SAC.


Web Gems

Nicole: running catch of a short pop-up in the infield. (1st)
TF: catcher: catch of a Colby's pop-up near home plate. (1st)
Avi: outfield assist in a Avi-Jerry-Ron relay to get runner out at third. (2nd)
Verdasys: 1-2-3 inning in the third. First for the season.
Nicole: Nicole to Bergstein play at the plate (4th)
Verdasys Fielding: 3 two run of less innings including 2 shut-out innings.


Falls on Field:


O'Connor: 0
A-WOL: 1 (was faked)


A-WOL Watch:
Outran a force out to second and third in the fifth. No fly outs. Made force out at first. Participated in force out in second with Bergstein. 2 for 3 with one run and one RBI and faked fall on field.



Game Photos | Stats from the Game | Scorebook | Absent Fan Report