Game 6: Down to the Wire
Team battles to the final out in hopes of collecting second win
By Andrew Wolan / WRCS
Game date: July 27, 2009
Score Box
| | | | | | | | | | | | |
| --- | --- | --- | --- | --- | --- | --- | --- | --- | --- | --- | --- |
| Mass Medical | 0 | 4 | 4 | 0 | 4 | 1 | 2 | | 15 | X | 0 |
| Verdasys | 5 | 1 | 0 | 0 | 3 | 2 | 2 | | 13 | 21 | 0 |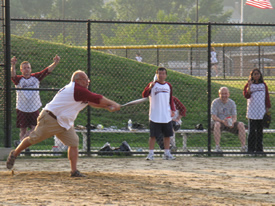 Team looks on as Ivan connects for a base hit in the seventh. (Polozkov)
Introduction
Whenever Verdasys and Mass Medical meet, one thing is always certain: an exciting, close game that goes down to the wire. The last time these two evenly matched teams met was in the playoffs. The game was tied going into the final inning, where Mass Medical outscored Verdasys 6-5 to break a tie and collect the win.
This afternoon, Mass Medical (M's) will be looking to improve their club record against Verdasys to 2-1. Whether or not they will succeed is anyone's guess. But one thing is for certain: if you are expecting an exciting game then you won't be disappointed.
Weather
Much like in Game 5, a weather system threatened to strike the area before game time. However the storm cell veered south, leaving the area untouched. And much like in game 5, a soggy summer helped keep the infield soft, once again making it well suited for sliding.
Pre-Game Injury Report
During pre-game warm-ups, Avi injured the ring finger on his right hand while catching a thrown ball. What happened was Avi positioned his right hand underneath the webbing of his glove so that his fingers were pointed at the ball. When he caught the ball, it collided with his fingers, impacting his ring finger and stressing its finger nail. "I asked A-WOL to throw a little harder" said Avi. "I just caught the ball incorrectly." Despite the injury, Avi played through the injury to participate in the game.
Game Summary
Top of one, Verdasys kept Mass Medical off the board with a 1-2-5 inning. Ryan kept them in check with two fly outs in left. In the bottom half of the inning, Verdasys rallied for 5 runs to take a quick 5-0 lead. Here's how the scoring went down:
Mike-O leads things off with a single. Runner on first.
Colby hits an infield double. Runners on first and second.
Ryan hits a 2-RBI double. Ryan on second. No out.
Avi hits an RBI double. Ryan scores. Avi on second.
Jerry hits an RBI single, scoring Avi. Jerry on first.
Nicole hits a fielder's choice. Jerry out at second. Nicole is given second on an over throw to first on an attempted double play. Nicole also pulled a leg muscle running to first. Stella pitch-runs for Nicole on second. One out.
Ron hits a double. Stella to third, Ron on first. One out.
Misha hits an RBI single. Stella scores. (First career run scored.) Ron to 2nd. Misha on 1st. One out.
A-WOL is jammed and hits a pop-up for out number two. Misha is caught off first base and is tagged up for a double play.
| | |
| --- | --- |
| C | Stella / Nicole / Bhavani |
| 1B | Jerry |
| 2B | Colby |
| SS | A-WOL |
| 3B | Ivan |
| FIF | Colby |
| LF | Grimard |
| CF | Ron |
| RF | Misha |
| FOF | Nicole / Stella |
As mentioned above, Nicole injured her leg while running to first base. She and Stella would swap fielding assignments as Nicole's mobility was severely limited. (See chart to the right.)
The M's respond with a rally of their own by scoring 4 runs in the second inning. Ivan put an end of the scoring by making the final out of the inning. With runners on first a second, a grounder is hit to Ivan at third. Ivan fields the ball and has a foot race to the bag. Though the base runner wins the race, he mistakenly overshoots the base, making him easy pray of a tag-out. This play was Ivan's first put-out of the season. "Everyone fears Ivan the Terrible. Grrr!"
Ivan would continue his wrath of terror in the bottom half of the second. With no one on, Ivan hits a ball over the heads of the outfielders in center field, easily an ITP-HR. However, after rounding first base, Ivan heads back to first. "What are you doing? Keep running!" said a frantic Verdasys bench. After hesitating, Ivan proceeds to second and holds for a double.
"That takes some serious talent" said A-WOL. "Stretching a HR into a double is something that only Manny Ramirez can do." Ivan would score on an O'Connor fielder's choice. 6-5 Verdasys after two.
The M's would collect four more runs in the top half of the third inning. A shaky looking infield, followed by some well-placed hits gave the M's the edge. Despite this, Avi made a memorable play in the inning. With a runner on first, a grounder is hit to second. Avi collects the ball and proceeds to second. Instead of tagging the base with his foot, he instead tags it with glove. A-WOL and the base runner look at each and agree that even though it is very unorthodox, it is still an out.
Mass Medical went down in 2-3-4(K) order in the fourth, ending the inning on a strikeout. Though Verdasys could not capitalize in the fourth, A-WOL did make the inning interesting. After hitting a double, A-WOL proceeds to third after the ball gets by second baseman. As A-WOL slides into third, a tag is made. However, the third baseman could not hang-on to the ball, leaving A-WOL safe with a triple. 8-6 Mass Medical.
The M's would score 4 more runs (again) in the 5th to take a 12-6 lead. Ron made a great behind the head running catch in center field for the out. However, he held onto the ball a bit too long, thus allowing two base runners to score. "I think he was posing for the photographer" said A-WOL.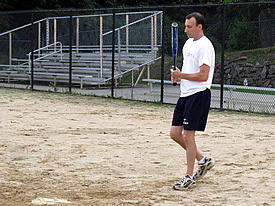 Ryan stepping-up to the plate before hitting a 2-RBI double. (Polozkov)
Bottom of the fifth inning with two down, O'Connor got a seemly dull inning going with a single. Next up is Colby who hits a grounder. A play is attempts at second, but O'Connor out runs the throw. Furthermore, the ball is mishandled by the second baseman, allowing O'Connor advances to third. With everyone distracted by Mike on the play, Colby sneaks in from behind and advances to second, netting a wacky infield double.
The stage was now set from Grimard, who connects for a 2-RBI double into right field, scoring Mike and Colby. Next up is Avi, who hits a ball deep into center field. The hit is good enough for an RBI double, allowing Ryan to score. However, Avi has bigger ambitions and attempts to stretch the double into a triple. But the M's got the ball in quickly, and tags Avi out at third. Avi also pulls quad muscle on the play as well. 19-9 M's after 5.
The Kazachok Maneuver
Top of 6, another memorable fielding play. With a runner on first, the batter hits a grounder to Colby behind the mound. Colby fields the ball and throws it to second. Though both Avi and A-WOL are covering, A-WOL makes the catch. With Avi on the bag, and a base runner approaching, A-WOL needed to tag second base. Since his left foot was a few inches off the bag, the only move A-WOL had was to touch second with his right foot. But this would mean moving forward and perhaps causing a collision with Avi and the incoming base runner. So what does A-WOL do? He falls down. (Are you the least bit surprised?)
What A-WOL did was a make a quick kick forward with this right foot to touch second. The move was reminiscent of a kazachok dance step. This maneuver had the benefit of causing A-WOL to loose balance and fall backwards, thus allowing him to avoid a collision with Avi or the advancing base runner. Perhaps impressed with the play, the fall was also certified as a "fall on field" by Ryan Grimard and later by the "Ministry of Falling".
Though the M's collected a run in the inning, Verdasys would collect 2 to make it 13-11 M's. Below are the scoring pays of the drive:
Jerry leads inning off with a double. He strains a leg muscle on the play A-WOL offer him a cigarette.
Bhavani, pitch-hitting for Nicole, hits a SAC. Jerry to third, one out.
Ron hits an RBI double, scoring Jerry. Ron on second.
Misha hits into a ground out RBI SAC, allowing Ron to score. Two down.
A-WOL stretches a double into a triple (his second of the game) by advancing to third unchallenged on an over-throw to second.
Stella hits into a 1-3 ground out to end inning.
The M's got two back in the seventh to make it 15-11. An elated A-WOL got the final out in the inning by converting a grounder into a 6-3 force out. "It was a hard hit by a speedy runner. It was the first difficult force-out at first I had made in a while" said A-WOL. "Had I hesitated, like I normally do, the runner would have been safe." The play also limited the scoring to two, which meant that if Verdasys was to keep the game alive, they would need to score at least 4 runs.
Colby's Pickle
Bottom of seventh, with one down and Lijun on first, O'Connor gets the action started with a double. This puts runners on second and third for Colby, who hits a grounder. The M's defense attempt to get a force out at first, but the ball is over thrown. Colby attempts to proceed to second on the play, but the fielders quickly get the ball to second. With Colby a few steps from second, the second baseman attempts to tag Colby, who wisely backtracks to first. Looks like we have ourselves a pickle! As the second baseman puts Colby in a rundown back to first, she throws the ball to the first baseman, which is mishandled and gets by him. Colby make a move back to second but wisely proceeds back to first. "Just stay on first Colby. This excitement is killing me" said Jerry, who was base coaching first. And amongst all this confusion, Lijun and Mike manage to score.
And so, with two, a runner on first and only one out, and Grimard and Avi coming up to hit, it looked like Verdasys might actually tie the game, or edge out a win. However, the M's had a trick up their sleeve. Grimard steps to the plate and hits a ball deep into right field. The Mass Medical fielders were ready and made the out. Next batter is Avi who hits a ball deep into left. And once again, the M's were ready as they made the final out to secure the win.
And so, to those that were expected a close game, you were not disappointed as Verdasys fought to the very end to fall to the M's 15-13.
Post Game Reaction
On hand for the "Mass Medical Center Post-Game Show" were several players from the Verdasys Bench, including Jerry Buote, Ryan Grimard, Mike O'Connor and coach Wolan. Also on hand were two players from the Mass Medical team. In a surprising twist, the show did not begin with an evaluation from coach Wolan, but instead from Jerry Buote, who responded to the media's comments about why the team was having trouble winning games.
"The reason why we are not winning many games is because our guys are trying to smack the ball out of the park. Think about it: which team did we beat this year? The one with the guys that were trying to hit the ball over the fence. The kind of hits that wins ball games are short (line drive) base hits placed into gaps into the outfield.
"As for fielding, we need to do a better handling of the ball. I'd like nothing more than to see us try to make outs at third base or attempt double plays. But we first need to master the basics such as fielding and be able to make reliable force outs at first and second.
"The last two teams we played against were doing that and were quite successful. It's wasn't necessarily that they had a better players, but rather a better strategy."
After Jerry's comments, coach Wolan took on questions from the media for Q&A.
Q. What is your response to media's critique of the team, and do you agree with what Jerry said?
Everybody on this team wants to win. I understand that. I think some are little frustrated because we came so close to winning so many occasions and all we have to show for it is one win. However, if you look at our situation, I think we are exceeding expectations. Think about it. Many of our talented players are not appearing regularly. So, I am forced to field teams where many players have never played the game before this season. And despite this, we are playing games where we actually have a shot at winning. That's pretty dam good!
Now, is there room for improvement? Absolutely. In fact, that was the point which Jerry was making earlier. But given our situation, I'm happy to be fielding questions such as "what do we need to do to get over the hump and start closing some wins" verses "what do we need to do to avoid getting blown out at each game"?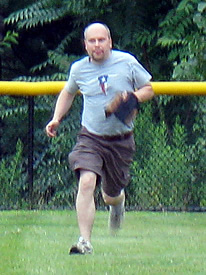 Some claim to have seen Misha "frolicking" in right field.(Polozkov)

Q. Who do you think had the biggest impact in today's game?

Easy, Grimard. Without a doubt, Ryan was our defensive workhorse of the game. He caught numerous fly outs in left field, keeping base runners off and our team in the game. He also did a great job at the plate, batting in 4 runs and scoring twice. Had he not come, the game most likely would not have turned out as good.

After the Q&A session, a player from the M's bench commented on Ryan's coverage of left field. "He was everywhere. Wherever the ball was hit, he would quickly dash to the ball and then take a few causal steps before making the catch. He made it look easy."

The show ended with a discussion on claims from Colby that Misha was "frolicking" during the first inning. "I (didn't) frolicked, what ever that means" said Misha. "We saw you frolicking in right field a few times," said Grimard. "There is no need to hide it." O'Connor concluded that Misha's behavior was due to all the coffee and caffeine that Misha was consuming during the game.

Big Bats:


Colby: 3 for 4 (2-2B) with 2 RBIs, 2 runs scored and one pickle avoided.
Grimard: 3 for 4 (2-2B) with 4 RBIs and 2 runs scored.
O'Connor: 3 for 4 (2B) with an RBI and 3 runs scored.
Ivan: 2 for 3 (2B) with one run scored and an ITP-HR stretched into a double.
A-WOL: 2 for 3 (2-3B).
Team: New team record of 10 doubles hit in a single game. Old record was 8 set in Game 6 against Mass Medical in 2008.


Memorable defensive plays:


Team: 1-2-5 inning. (1st)
Avi: defensive block of a line-drive at first. (1st)
Ivan: after fielding a ground ball, Ivan tags-out a runner who overshot third base to end inning. (2nd)
Avi: tags second base with his glove after fielding a grounder. (3rd)
Team: 2-3-4 inning (4th)
Ron: behind the head running catch of a fly ball in center field. (5th)
A-WOL: a "kazachok" like maneuver to tag second base for the out. (6th)
A-WOL: 6-3 play against a hard grounder and a speedy runner. (7th)


Miscellaneous:


Usha Shama made her Verdasys Softball debut. She was to replace Colby in the line-up in after she was scheduled to leave in the seventh. Colby agreed to stick around after she learned the team was only down by 2. Thus Usha only gets credit for "game attended."

Injury report:


Avi: injured the index finger on his right hand during pre-game warm-up. Apparently, the ball struck the nail on his hand dead-on, causing it to bend back. The next day, Avi reported that the finger was bleeding underneath the nail. Avi also injured a leg muscle during the game while running to third. Both injuries have been treated and Avi is expected to participate in the team's next game.
Buote: pulled a leg muscle during the game. He is expected to be fine in time for the team's next game.
Nicole: Pulled quad muscle running into first. Her leg was still sensitive a few days after the game. She does not expect to participate in the team's next game.


Falls on Field*:


O'Connor: 0
A-WOL: 1


* = Stats have been approved by both Ryan Grimard and the Ministry of Falling.




Game Photos | Stats from the Game | Scorebook | Absent Fan Report