Playoff Game 2: Not like this
Coach left with no choice but to throw in the towel
By Andrew Wolan / WRCS
Game date: Sept 15, 2009
Score Box
| | | | | | | | | | | | |
| --- | --- | --- | --- | --- | --- | --- | --- | --- | --- | --- | --- |
| Verdasys | X | X | X | X | X | X | X | | L | X | X |
| Up To Date | X | X | X | X | X | X | X | | W | X | X |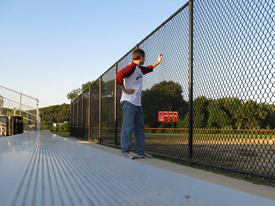 All Coach Wolan can do is look on and ponder about a game that never was (Wolan)
Introduction
In their previous confrontation, a seemingly empty Verdasys bench went-up against a close-nit Up-To-Date team for the right to advance to finals. Though many of their star players were absent, Verdasys was able to play competitively both on offense and defense and managed to hang-on to a 12-all tie after six innings. However, a deciding seventh inning was not played due to increasing darkness, forcing the game to end in a draw.
Since the contest ended without a winner, a make-up game would be necessary to decide who would advance. But how this game would be played was unclear. After intension negotiations between the skippers of both teams, a 5-inning make-up was eventually agreed upon.
And so on a sunny and beautiful Tuesday afternoon, Verdasys and "Up To Date" will meet once again to determine who will face "University Office Park" for the championship crown in a highly anticipated and well hyped semi-final make-up game. Will Verdasys' star players show-up or will the regulars be asked to step-up once again?
Roster Troubles
How about if ten players just showed up? Before game day, it was clear that coach would not only be lacking his star players, but most of the bench as well. Attempts were made to enlist other players, but unfortunately many had already made plans assuming the season would already be over.
On game day, coach was only able to round up nine players, where only 6 of which were "definite" for playing. To compound problems, coach could only round-up two ladies to play. To keep a playoff game hopes alive, Coach Wolan was able to convince "Up To Date" to allow Verdasys to play with just 2 woman players, but only if:
Verdasys fielded 9 players instead of 10
Verdasys inserted a "ghost" batter in place of the missing female player. This batter would be awarded an automatic "out" whenever the player appeared in the line-up.
With the roster hanging by a thread, the final blow came when the starting second female player announced that she could not play. This announcement left Coach Wolan with choice but to do the impossible: forfeit a play-off game.
"It's disappointing" said coach. "It's one thing if we played and lost. It's another thing if we just don't show-up. … Many people worked hard to get us to where we are today. It's a shame to see the season end like this."
The forfeit gives "Up To Date" the win and marks the end of Verdasys Softball's playoff run and their 2009 season. It is also the first ever forfeit declared by Coach Wolan in his four years as a softball team head coach.
Inside Scope
Perhaps Tuesday was just a bad day for the team. According to an inside source, while the team was only able to round up six players for Tuesday, at least ten were available to play on Wednesday. This led coach Wolan to make a plea with the commissioner to push the game to Wednesday. However, the commissioner would not allow it, stating that the change would impact a girl's softball league scheduled to start the following week.
Game Photos | Stats from the Game | <!a href="../scorebooks/scorebook_p1b.jpg" class="mwMore">Scorebook